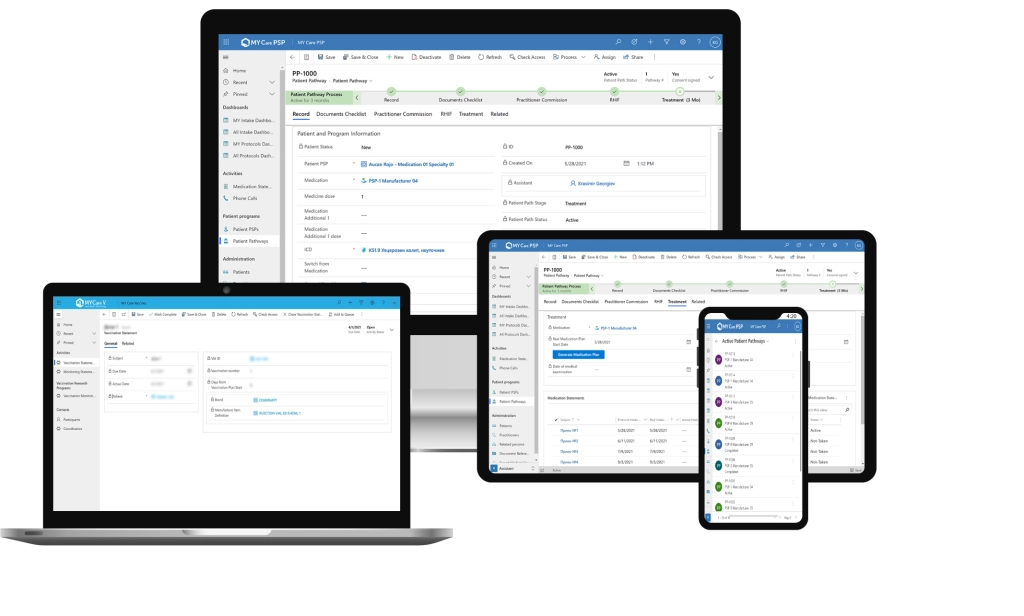 MYCare PSP is a your All-in-One Patient Pathway Administrator, a fusion of healthcare,data & technology. Transforming your understanding of digital healthcare with MY Synergy.
MYCare PSP
MYCare PSP is an enterprise-grade software created from the ground up to facilitate the administration of patient support programs (PSPs).
Its tools are designed in collaboration with key stakeholders in the healthcare sector and allow for unprecedented customization and workload. PSPs can be configured independently, patient pathways ran simultaneously, diseases and medications defined meticulously, and rules and regulations integrated seamlessly.

MYCare PSP is derived from the proprietary MY Care modular platform to answer growing industry demands for digitalized healthcare and digitally managed patient support programs.
The system is built on Microsoft Cloud for Healthcare, granting businesses access to powerful patient data collection and interpretation tools in the form of Microsoft Power Platform, Dataverse, Azure FHIR Connector, and PowerBI.
Powered by Microsoft's best, fine-tuned by MY Synergy

Adapt with Power Platform
MY Care PSP can adapt to specific business goals. Whether they are data gathering, automation of core processes, or patient behavior analysis, the system's Power Platform foundation will answer your needs. MYCare PSP also grants the possibility to gauge efficiency with powerful tools, such as Microsoft Dataverse and PowerBI.

Azure-empowered
MYCare PSP seamlessly communicates with data sources, such as Azure IoT, allowing instantaneous access to connected amenities and wearables, as well as sensor data tracking via standard APIs and microservices. The system also supports cross-cloud integration with other Microsoft products, such as M365 and Dynamics365, to ensure business continuity.

Healthcare Data Model Harmonization (HL7 & FHIR)
MYCare PSP allows for the sharing and reutilizing of components from Microsoft's Healthcare Data Model. In addition, all components and data sets are designed based on the HL7 FHIR standards framework to ensure data interoperability across multiple systems and vendors.

3rd Party Integration
MYCare PSP supports 3rd party platforms and applications, further boosting its functionality with options such as phone call system integration, virtual agents and parcel delivery tracking. Add these features to your PSP to deliver next-level patient support.

Multi-level Security
By leveraging functionalities found in the Microsoft Cloud for Healthcare platform, MYCare PSP is able to provide multiple layers of security. The system improves this already secure foundation across the physical, infrastructural and operational dimensions by utilizing Microsoft Azure and a role-based security model at the application level.

Uncompromising Compliance
MYCare PSP is designed to meet the most demanding compliance requirements, while also providing full user audit trail visibility and personal data privacy. Data classification and data disposal functionalities are also included.